HIPSTER POMADE NEW LAUNCH
Hipster Pomade available at
Customer Testimonials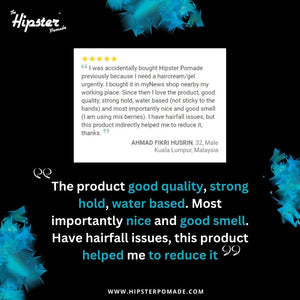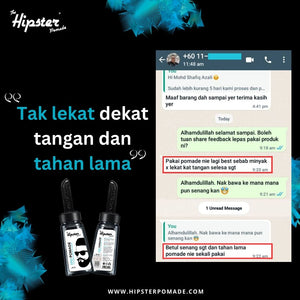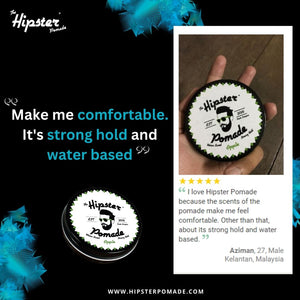 Our Story
The Hipster Pomade is a premium men's grooming brand that is committed to creating a sustainable, inclusive, and empowering experience for all. Our vision is to inspire individuals to feel confident and empowered through their grooming routine, by creating a space that caters to all styles, hair types, and grooming needs. Our products are made from natural and organic ingredients, cruelty-free tested, and packaged in recyclable materials, making them a responsible choice for both the consumer and the environment.
Since our establishment in 2015, The Hipster Pomade has grown rapidly in popularity and is now available in over 5000 outlets across Malaysia. We are proud to have won several awards, including the SME Corp Enterprise 50, MyIPO Golden Intellectual Property, and numerous Watsons awards.
Our commitment to quality and sustainability has seen our brand grow in popularity globally, with our products now available in selected barbershops across the United Kingdom, South Africa, Thailand, Japan, Singapore, Maldives, and Indonesia. This is a testament to the effectiveness and quality of our products, which are designed to meet the needs of men from all walks of life.
We believe that grooming is an essential aspect of self-care, and we strive to provide men with the tools they need to look and feel their best. Our products are carefully crafted to deliver effective results, whether it's for a clean and classic look or a more daring and adventurous style. We take pride in helping men discover and express their unique style and individuality, one product at a time.
At The Hipster Pomade, we are not just about selling grooming products, but also about creating a community that supports and empowers one another. We organize grooming events and initiatives that encourage men to embrace self-care and take control of their grooming routines, ultimately promoting self-confidence and personal growth. Our commitment to inclusivity and sustainability is at the forefront of everything we do, and we will continue to strive to make a positive impact on the world.